pii_email_67907b59736751561a23
Most users use outlook for dealing with email as it is considered one of the best email applications in the world. However, in the 2010, 2013, 2016, and 2017 versions, there are often some bugs. In simple and possible ways to solve [pii_email_67907b59736751561a23] errors that an individual can carry out.
It requires more straightforward steps, and we can do it. If the problem for [pii_email_67907b59736751561a23] still persists and is not resolved.
It can be best to contact Microsoft Headquarters or call a technician in an emergency.
It helps you investigate and mitigate the problem for [pii_email_ccc72642c6c6e3fe8a6], [pii_email_3c71fd7e05f3e6d820db], [pii_email_9b402ad1304f57c98cfd] and deliver smooth-running software to the user!
Error [pii_email_67907b59736751561a23]
Here are few top-notch techniques to help you fix the [pii_email_67907b59736751561a23] error code and paint Microsoft Outlook well without conflicts.
Also, if you still encounter the problem, tap Microsoft Help for additional commands for pii_email_67907b59736751561a23.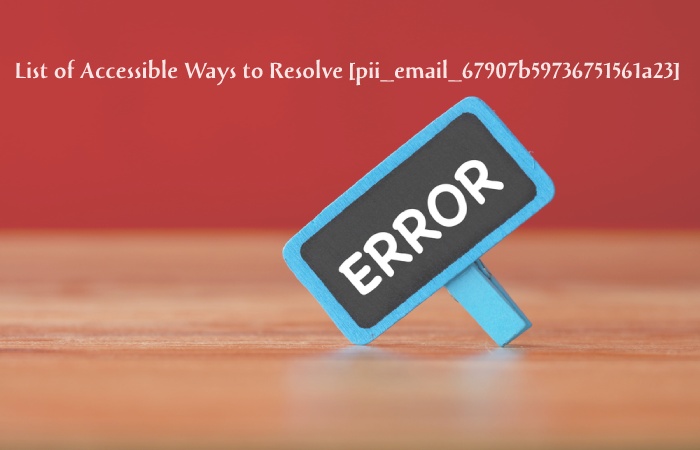 List of Accessible Ways to Resolve [pii_email_67907b59736751561a23]
1. Using multiple accounts on a single laptop or computer results in this error to resolve the [pii_email_67907b59736751561a23] error caused by attempting to log out of all existing accounts. Then log in with a single account. This can likely fix the [pii_email_67907b59736751561a23] and [pii_email_1a85c09ee7a236c446b6] error.
2. [pii_email_67907b59736751561a23] can also be fixed by uninstalling and reinstalling the Outlook software. It will improve or solve any errors pii_email_67907b59736751561a23 that are causing during the software installation.
3. The third way to resolve the [pii_email_67907b59736751561a23] error is to use the web version of MS Outlook instead of the PC software.
4. Another simple way to resolve the [pii_email_67907b59736751561a23] error is to purchase genuine Microsoft software that can be used directly instead of using a pirated copy for error.
5. Many users have also fixed this error pii_email_67907b59736751561a23 using the Windows automatic repair tool.
6. If all of the options for [pii_email_67907b59736751561a23] above do not work, contact Microsoft support for further instructions for pii_email_67907b59736751561a23.
Conclusion
Here we help you solve [pii_email_67907b59736751561a23] with some simple methods for troubleshooting error codes. To remove the pii_email_67907b59736751561a23 error code from the Microsoft Outlook system, all these steps to fix the pii_email_67907b59736751561a23 problem and solve the problem are weak and effective. If you have taken all these possible precautions and the problem persists, contact your Microsoft representative [pii_email_67907b59736751561a23] about the issue.
Read More:
Ufone Free WhatsApp Code – WhatsApp Offer 2021 Package Subscribe Code
Hosting Enable PHP Zip – How to Enable PHP ZIP Module in Your Hosting cPanel?
PC Software: Download the Best Free PC Software and Applications
9kmovies 2021 – Bollywood, Hollywood, South Movies Download HD Website
Sheppard Software: Fun Free Online Learning Games and Complete Review
Software Engineer Jobs Near Me and Vacancies 2021
How To Create Custom Post Type In WordPress Without Plugin
Related Searches
[pii_email_ccc72642c6c6e3fe8a61]
[pii_email_d44fdc206d0fd35f3f64]
[pii_email_79df28efeb62a7cc1cfb]
[pii_email_677b76e604d57b234348]
[pii_email_7087293f2dfb1eb98234]
[pii_email_fc9669d08da64edb911d]
[pii_email_fde911ca3c9a57230eed]
[pii_email_ade8d9e03a0b01af7881]
[pii_email_79df28efeb62a7cc1cfb]
[pii_email_9f55451c2842463277c4]
[pii_email_7ea16c38bdbc2b3c4cca]
[pii_email_71bfef990cd79deb2e4e]
[pii_email_3c71fd7e05f3e6d820db]
[pii_email_9b402ad1304f57c98cfd]
[pii_email_a9156473cd40b0128c46]
[pii_email_4fd014f39efe1745d8d1]
[pii_email_dc7e929425c20fc4d8c2]
[pii_email_162cadf1e6b6f279c545]
[pii_email_f2a28c6c2708cf50dd1c]
[pii_email_cd934d67fed5459ef035]
[pii_email_56394c4efd979bca36d5]
[pii_email_31e3dd6da9b0f80a3ee7]
[pii_email_e11c3be688f0f51b214c]
[pii_email_70a3268ab85334812ea4]
[pii_email_bbb9339f19592120372e]
[pii_email_d9f403638e6684c9fff2]
[pii_email_c44709f39be23a2d3753]
[pii_email_fa1ca9da007a20ba70c6]
[pii_email_50ee9531487d065fe54b]
[pii_email_641ee381135d3f7539ad]
[pii_email_0f3a69d26c4c0bb5ec19]
[pii_email_4127b6d16b65afa67a0e]
[pii_email_eb0eea5b1cc63065e8c2]
[pii_email_9afe6d46c9ebf55c725b]
[pii_email_0bf604bc2a8428216467]
[pii_email_ffa4dae37cdfac16e8d7]
[pii_email_f33f24d9f2e16b70be76]
[pii_email_169fd43b817e470ae301]
[pii_email_f9bfddf3103f659807df]
[pii_email_4f756e6f0b8aa8e6c202]
[pii_email_e7c410e5e6fee72ca67d]
[pii_email_e8bd8b5c3e6ba7551a13]
[pii_email_b50f2487ad88cad5488f]
[pii_email_10cb866b0b8f268f4a27]
[pii_email_8570bec3a66cb5d17cd3]
[pii_email_8f11625d0a000b277df2]
[pii_email_aedc4a3be3428a5007f5]
[pii_email_656502b8d01327bdd1d8]
[pii_email_921c2c8abf6264fa57fd]
[pii_email_67c5f5da8c8c05079c1c]
[pii_email_f9bfddf3103f659807df]
[pii_email_1097f20dcb907316f9fc]
[pii_email_2ae625b37954204db4c1]
[pii_email_e8bd8b5c3e6ba7551a13]
[pii_email_656502b8d01327bdd1d8]
[pii_email_22e85382f7dc146ba521]
[pii_email_3a4de1ed75a7e06d7e60]
[pii_email_4ea9494f86dbf020e0d8]
[pii_email_656502b8d01327bdd1d8]
[pii_email_5023baf971192e62aaac]
[pii_email_656502b8d01327bdd1d8]
[pii_email_2912dde8a44ca3e9185c]
"[pii_email_f9bfddf3103f659807df]"
[pii_email_ee99de5adf4f85e97c9e]
[pii_email_4e483cd756b5612aa020]
[pii_email_1e99215a2a7130f33f11]
[pii_email_fc52c843021e7f39d423]
[pii_email_61961f23fa6a16c0cf3e]
[pii_email_294c997bfed8e0a437cc]
[pii_email_6082363d1f210667f5fa]
[pii_email_0b374009ebea3c8a68ca]
[pii_email_01072a5bf2e32835a0c3]
[pii_email_f471d3ee8613f77bd6e2]
[pii_email_b9293670572baa1f4721]
[pii_email_f4cea690933c501337c1]
[pii_email_f471d3ee8613f77bd6e2]
[pii_email_387fb3a7cd2b118358b8]
[pii_email_986f4eac5e8bf844dc05]
[pii_email_8570bec3a66cb5d17cd3]
[pii_email_8fe0f671b361c8ac5776]
[pii_email_f2b2de632a0367c81cd1]
[pii_email_c752da6d57c276815ca2]
[pii_email_ddea34e9bcc0386cbdf8]
[pii_email_2912dde8a44ca3e9185c]
[pii_email_0b374009ebea3c8a68ca]
[pii_email_4e483cd756b5612aa020]
[pii_email_c55248e9a26287f761c1]
[pii_email_9040e886dc61f70dad0c]
[pii_email_5023baf971192e62aaac]
[pii_email_67c5f5da8c8c05079c1c]
[pii_email_53d8fb431ca7df16bb36]
[pii_email_e67fbfa9ad241b09cefd]
[pii_email_d8b5ae9e746baa12514d]
[pii_email_62431a703831ac10ec88]
[pii_email_7e2ce5529ba139f2e3f3]
[pii_email_1e99215a2a7130f33f11]
[pii_email_656502b8d01327bdd1d8]
[pii_email_921c2c8abf6264fa57fd]
[pii_email_656502b8d01327bdd1d8]
[pii_email_6082363d1f210667f5fa]
[pii_email_5553f4e1b087aa7bb88b]
[pii_email_3a4de1ed75a7e06d7e60]
[pii_email_ffa4dae37cdfac16e8d7]
[pii_email_6d58080b4b0962443f2d]
[pii_email_10cb866b0b8f268f4a27]
[pii_email_338034f14d68ea443925]
[pii_email_e7c410e5e6fee72ca67d]
[pii_email_d27ce59dbbab3d399dd3]
[pii_email_206d8398c02a8b733263]
[pii_email_338034f14d68ea443925]
[pii_email_21cd523c1657a8f83522]
[pii_email_ed48e0db261ba6ca800d]
[pii_email_387fb3a7cd2b118358b8]
[pii_email_fa857eec05e5a3cd13e3]
[pii_email_986f4eac5e8bf844dc05]
[pii_email_b50f2487ad88cad5488f]
[pii_email_8a04977c69230edb9e5e]
[pii_email_f2b2de632a0367c81cd1]
[pii_email_1d6e2d7bc212760b7714]
[pii_email_e7f71c0780ae9baa16c2]
[pii_email_2f385998c5e3f9e2d52d]
[pii_email_c752da6d57c276815ca2].
[pii_email_6d58080b4b0962443f2d]
[pii_email_5b7450b3c52ee3dc0fbe]
[pii_email_b9293670572baa1f4721]
[pii_email_ede4508531a11ede4b07]
[pii_email_3ab3cc43cc1e13a096b4],
[pii_email_338034f14d68ea443925]
[pii_email_ccc72642c6c6e3fe8a61]
[pii_email_3e40d0a6420a0f8b5bfb]
[pii_email_f33f24d9f2e16b70be76]
[pii_email_b00f854b68699ed1a3da]
[pii_email_a8cab6e2369f28fa0301]
[pii_email_ac7bb0728863fba01c4f]
[pii_email_2790b3b8602012e917c9]
[pii_email_1ea62df2564daf6c39d5]
[pii_email_b2223c98d08eee1ba1b1]
[pii_email_c597d14b1eca08517963]
[pii_email_731e4fa49af5682d1af7]
[pii_email_7ea16c38bdbc2b3c4cca]
[pii_email_1d6e2d7bc212760b7714]
[pii_email_e6685ca0de00abf1e4d5]
[pii_email_ede4508531a11ede4b07]
[pii_email_8d77d735c270479e134a]
[pii_email_9adeb2eb81f173c673a5]
[pii_email_10cb866b0b8f268f4a27]
[pii_email_f2b2de632a0367c81cd1]
[pii_email_5d19fb717f1a7f40b03c]
[pii_email_57bde08c1ab8c5c265e8]
[pii_email_51379926175b1edb8738]
[pii_email_4fd014f39efe1745d8d1]
[pii_email_9f55451c2842463277c4]
[pii_email_140aef3f188184ed374d]
[pii_email_e43ebd016a192406b125]
[pii_email_3c71fd7e05f3e6d820db]
[pii_email_6907e04bc91aa2fb1d8d]
[pii_email_1db51141573eca3c3352]
[pii_email_55e94efa88af65b7658e]
[pii_email_631475f41965502850a9]
[pii_email_d44fdc206d0fd35f3f64]
[pii_email_e27a0a620c6d0454d994]
[pii_email_f4c2c602de1958dd0ca3]
[pii_email_dc7e929425c20fc4d8c2]
[pii_email_7e19be4aaa02404e4109]
[pii_email_4b585e62e693490667da]
[pii_email_ae5be122f1b8a614b942]
[pii_email_9b402ad1304f57c98cfd]
[pii_email_71bfef990cd79deb2e4e]
[pii_email_5b2bf020001f0bc2e4f3]
[pii_email_1e0f4e2dc0caa3e167df]
[pii_email_198387e2e81b070a9af4]
[pii_email_43ead0f0e82d290a6c10]
[pii_email_30219666bd07ee2736d5]
[pii_email_31808adde1a874059bc7]
[pii_email_9bffaf2f88a8db1c7483]
[pii_email_1cc4b310ca9ab82d5278]
[pii_email_8cb86595e0ee17d87be7]
[pii_email_9cf6e18ba027db75fc29]
[pii_email_61cf1ae650e7b03873b1]
[pii_email_c0046e955c38627b7b5b]
[pii_email_7d1e7687a65c293f82fc]
[pii_email_623b1640f5f21026ae5d]
[pii_email_5e6aa07b528057d9277f]
[pii_email_5a3a888a1cbb75c122fe]
[pii_email_211ebb462d2a577b4d36]
[pii_email_246de12c47710c114463]
[pii_email_d2aea3ab87cca644ee0f]
[pii_email_0814b2edac53e5c5cddd]
[pii_email_e383a4b7bd4ce7396466]
[pii_email_098f0b1b44435922948b]
[pii_email_4e72ef389205dfc3098d]
[pii_email_caabf228378618e48556]
[pii_email_ca1a6786d32da826ccac]
[pii_email_29539076c948bffe773c]
[pii_email_33bcc5fa9284de56eb3d]
[pii_email_713ba92f9d2a5756c242]
[pii_email_a8eb0a05b91e6902c9ca]
[pii_email_daa3f160b6cfe2011863]
[pii_email_6c57bf85b0d66b7dbb50]
[pii_email_48423a12a016acf36698]
[pii_email_69b12753a8fe6352b815]
[pii_email_0802ca04a21b49f96f27]
[pii_email_955ae72e542c57653480]
[pii_email_8bcbec08ea93f0552748]
[pii_email_1525e5ccfcf2f2f19454]
[pii_email_d2e14c6b10c781e8b6c4]
[pii_email_56c53342f8bec10432a5]
[pii_email_259368d8df554e2c2092]
[pii_email_dbcd02c1083904a7e96a]
[pii_email_a39add055032f55de7a2]
[pii_email_44530685a2207fadbdb8]
[pii_email_3ab0f039ca917327827c]
[pii_email_0ea58ac774d9f4004fcc]
[pii_email_993aa8477043459aeac2]
[pii_email_cab74514e6c456d1f46b]
[pii_email_d8260e55824af5b7193b]
[pii_email_481553cf7f0e7fefaf9a]
[pii_email_0642b6407de1d9fad1d4]
[pii_email_034697f5daed47c4dd64]
[pii_email_9fde58e1e1239a6bb110]
[pii_email_f973440c414c9a1c1f97]
[pii_email_bf208dd122af5d5371bf]
[pii_email_80b350501a17240deb84]
[pii_email_ce132da233711222b2eb]
[pii_email_228c94951a116866b440]
[pii_email_fc1bc974e4903ebc27ab]
[pii_email_eb38b1afc283a4a01074]
[pii_email_53379e41c4f27609b824]
[pii_email_fa418b7f941854c11195]
[pii_email_22d5fce28b07f4871793]
[pii_email_0e3b1c416b0e89cb9ac6]
[pii_email_0cd81888a5fe7246075b]
[pii_email_fde911ca3c9a57230eed]
[pii_email_bc0587309ca8e72fde61]
[pii_email_1bfb03e0aa0638cf214d]
[pii_email_6d50b37545997ff7262c]
[pii_email_78a39e465bb560fa7f29]
[pii_email_30972194668a760cbf54]
[pii_email_bbbf907c5c0fad8b2444]
[pii_email_562a8752ffd2c9b631dd]
[pii_email_cf0a609c106086fdd63f]
[pii_email_6e710c6a69972f4411d1]
[pii_email_99118741909349ddeebe]
[pii_email_0a72d502843805b3bc5a]
[pii_email_f875e532bbe17e22260f]
[pii_email_5ea337ed017ed0f82193]
[pii_email_ee3e81ea14697528ba2f]
[pii_email_faaf54fa60d3e181e9b3]
[pii_email_0d163db6b510e5be497e]
[pii_email_e3bf6f21b02fdf2ee91e]
[pii_email_28f1f6417a5bf650b5ec]
[pii_email_ce470bcff5d842796ce8]
[pii_email_a37aeab4f52a36cfec65]
[pii_email_bc0906f15818797f9ace]
[pii_email_52f92a95cc2eccdf16d1]
[pii_email_ffca7110eeeb9325550b]
[pii_email_4e90fe51057d2b07feef]
[pii_email_7dd54c6bd0ef298d661b]
[pii_email_5c2678803099136ce71d]
[pii_email_e1302684a6ddafe3a0b0]
[pii_email_ed005645bb2cdc9890b4]
[pii_email_99c9ccca13760bd4f3e4]
[pii_email_6e44ed5a826c423f3214]
[pii_email_6f135a6ef99707c2c0eb]
[pii_email_4d9df02ad15109be5377]
[pii_email_a1e29729b0e231571ee5]
[pii_email_b55b31eb4a9283ecccca]
[pii_email_a6c33e836c8e4c0dc6aa]
[pii_email_e63d09a69f2dc2ca5e98]
[pii_email_9112bd389dede22ad87d]
[pii_email_a1f411eb57e141468de6]
[pii_email_6fac0f93a0fb907d7c3d]
[pii_email_7193baf4bda4b34e0614]
[pii_email_341810f15fff8d3949bb]
[pii_email_c528fb43d88ed3ffcd5b]
[pii_email_97bc50eaf8a59db36393]
[pii_email_82ee6fd797a894fe966e]
[pii_email_ce80e881463d5a72e0a9]
[pii_email_c6277ceb69fa9c3380fa]
[pii_email_3cf9a06f0235de7f8c3a]
[pii_email_3b83a7ff51e050446373]
[pii_email_03c3d2d0dcd996f9a9fc]
[pii_email_9005d2bde57a358104c9]
[pii_email_5ab6d89d88b5b042f212]
[pii_email_cf5c17a4198e6de6ebb1]
[pii_email_e31d52aa0d183b744ddb]
[pii_email_bd0172904d9b9894585c]
[pii_email_997d43e3372ad2842c6a]
[pii_email_b2510b3cf0f884dc4580]
[pii_email_f23c4a18e05e819cc5db]
[pii_email_cf6258d47ee910f6b765]
[pii_email_ed59beefb39bb125fe51]
[pii_email_f657520cbde8fe43cb61]
[pii_email_8caadf8381ea840ca6b8]
[pii_email_50b2503bcda9234414dd]
[pii_email_9e8be33b4030f7a84b83]
[pii_email_6666d16632bb78892692]
[pii_email_acff4674a893282ba558]
[pii_email_422204822624d1eba04d]
[pii_email_871e8f24a38a4d40fc74]
[pii_email_b0c7e843603d4d1f2e4b]
[pii_email_dc9d8f1b2795a9da69e0]
[pii_email_274fd86c2624ac2c3e62]
[pii_email_61688e7a2d4d582097d6]
[pii_email_d1647188b0c15044e387]
[pii_email_dfd220aaaa6c96d05c97]
[pii_email_419126e8b0834aa4770b]
[pii_email_d764ce366426256223a7]
[pii_email_82d1acdfa1f0b8dbf078]
[pii_email_6933b343c8686314eaf8]
[pii_email_f5cecd5e6762ab734cad]
[pii_email_0bc47727f0f0bfa12870]
[pii_email_b03adc81993e55dcb5b5]
[pii_email_9e54cd39c2bafd8f14a2]
[pii_email_a170429660bb54fc1ee7]
[pii_email_696aab39d87212143f2c]
[pii_email_ccb2c3a65e10c3e376dd]
[pii_email_99ecab1fdedf2f363573]
[pii_email_7ad43b498b29036bc427]
[pii_email_7087293f2dfb1eb98234]
[pii_email_3d762af0c9ffaba2a4c1]
[pii_email_7e2a4c52a3924dc0a89c]
[pii_email_10fa061044d68c0a85b2]
[pii_email_50c49b5b32b85da6fd74]
[pii_email_609d0d3d960d4b1fb4db]
[pii_email_7e93cb0eb9ff7a4b183d]
[pii_email_addd0b7d7fad319de971]
[pii_email_f622e47f7cb143d25c8c]
[pii_email_4434acbce191b20b94af]
[pii_email_a8c9f71b2a2627a86e11]
[pii_email_e9d48ac2533bded18981]
[pii_email_9ebe26d230a39b373a49]
[pii_email_e48e99b7ed4c8c4849c5]
[pii_email_d5a29d07d8597e10c157]
[pii_email_ba32f57746671a10fdfc]
[pii_email_a7e03a9747809d77db07]
[pii_email_a24a96ca0e8e052c1d4d]
[pii_email_f8420267ce3e71fb53d2]
[pii_email_b9acc2bdaaf37f698539]
[pii_email_dd756b6cc883d40d06e9]
[pii_email_e70df506d228af25efcc]
[pii_email_b0bd2772254ae7e855ca]
[pii_email_fc9669d08da64edb911d]
[pii_email_477fee85d84c0bd3e747]
[pii_email_3c8fc767ed2e1e44c367]
[pii_email_aff84c3d97da075e3544]
[pii_email_2aabccf59e2f4b40cc5f]
[pii_email_21bc279c56454863b199]
[pii_email_d7103e3a9f5901732227]
[pii_email_e75c0989631d3c66f4d8]
[pii_email_9c560e9ee8c59e7b1301]
[pii_email_75551be3aa765c0b6139]
[pii_email_0799c24e86081bdf83f6]
[pii_email_140771873505d8a49be1]
[pii_email_6a04492b3dc7d2ea01fc]
[pii_email_00f2e2be8446cca7ae2a]
[pii_email_1b425d55f3d92ec54abe]
[pii_email_1e2047008e73d5900da8]
[pii_email_de0f626d4e7482c0b98d]
[pii_email_5b08e2ddd624c3db2bb3]
[pii_email_6ab9323b6fa6af9a2f06]
[pii_email_a98eba96cbada892b819]
[pii_email_dd19c9b155a41c23aaa5]
[pii_email_69af56ebea45cc793f10]
[pii_email_5e62c8a0c0c73c6109dc]
[pii_email_5f989e2fb5d007bf52e0]
[pii_email_dbeba44a624977e8c107]
[pii_email_caabf228378618e48556].
[pii_email_288aeb6785f5c4ed1b44]
[pii_email_2202997766f8b6d1ee5b]
[pii_email_6d957ace8c517f74a4ab]
[pii_email_203322a317a02dc01682]
[pii_email_deb5b518aee05163c848]
[pii_email_cd18f05216b1649c86bd]
[pii_email_b79178612aebd3bcd710]
[pii_email_4b65eec0f23a25680aa8]
[pii_email_ade8d9e03a0b01af7881]
[pii_email_9ebe26d230a39b373a49]
[pii_email_c0046e955c38627b7b5b]
[pii_email_4ea9494f86dbf020e0d8]
[pii_email_259368d8df554e2c2092]
Related posts